IBM together with Samsung and Globalfoundries shows off the world´s first 5 nm logic chip with horizontal Gate All Around Field Effect Transistors also referred to as GAAFETs. GAAFETs are a evolutionary development out of FInFETS that were fisrt introduced at 22 nm by Intel. It is predicted that 7nm will be the last FinFET node and that GAAFETs has to be introduced by then.
Source: IBM
LINK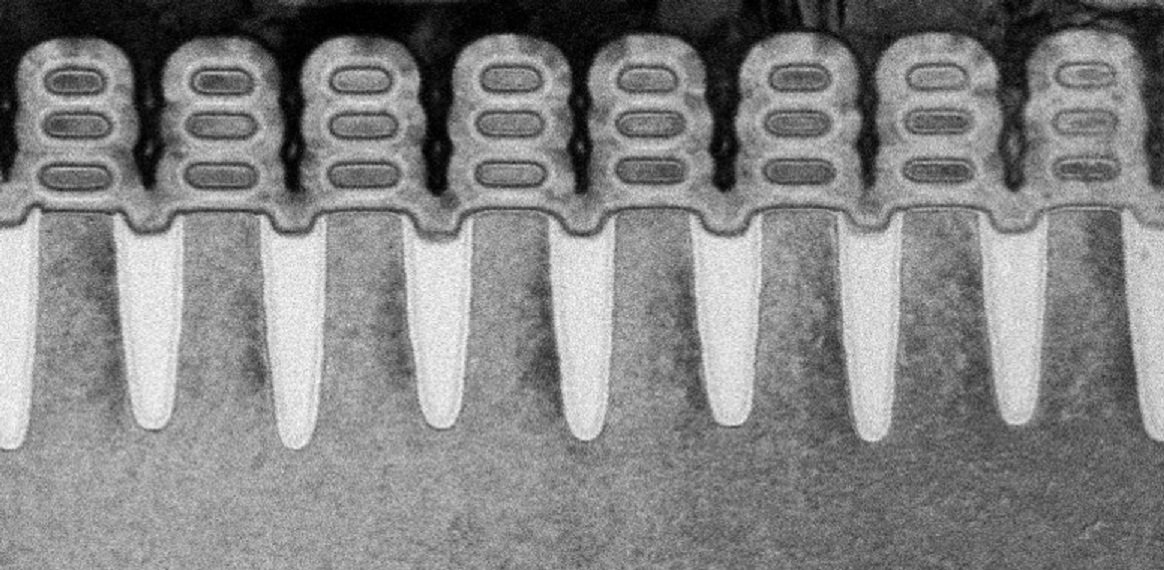 TEM cross section of 5nm GAAFETs by IBM, Samsung and Globalfoundries (Source IBM)
The GAAFETs are manufactued by deposition stacks of epitaxial silicon and silicon germanium (Si/SiGe Epi). Then by using a combination of EUV lithography and reportedly (
LINK
) Atomic Layer Etching (ALE) trenches are etched to separate the stack into fins and then afterwards to individual nanowires (or nano sheets as IBM calls them) of Si resp SiGe forming the channels stacked on top of each other. Later the high-k / metal gate (HKMG) stack is deposited in by a sequence of ALD processes conformally covering the nanowire channels.
In the nano sheet FETs, the wires are much wider and thicker presumably giving the nano sheet FETs better electrostatics and drive current
Articles :