ON Semiconductor Inc. has ordered the Propel High-Volume Manufacturing (HVM) Gallium Nitride (GaN) Metal Organic Chemical Vapor Deposition (MOCVD) system from Veeco Instruments Inc.
The Propel GaN MOCVD system is specifically designed for high-voltage power-management devices used in data centers; automotive, information and communication technology; defense; aerospace and power distribution systems, among other applications.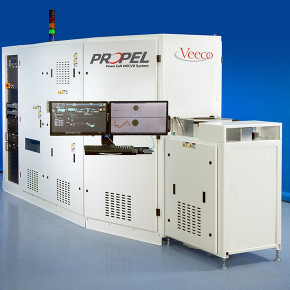 Propel Power GaN MOCVD System for Power Electronics. A Single-Wafer Reactor Technology to Enable Efficient, GaN-Based Power Devices (LINK)
"Our prior learning with Veeco's K465i GaN MOCVD system drove us to investigate the Propel HVM platform for our production ramp," said Marnix Tack, senior director of corporate R&D and open innovation at ON Semiconductor.
"The beta test results demonstrated superior device performance with high uniformity and within-wafer and wafer-to-wafer repeatability, while meeting our cost-of-ownership targets for six- and eight-inch wafers. As such, the Propel HVM system proved to be the most suitable platform for our power electronics manufacturing needs."
The Propel HVM platform is based on Veeco's innovative single-wafer system with proprietary IsoFlange and SymmHeat technologies that provide homogeneous laminar flow and uniform temperature profile across the entire wafer. The system enables production of power electronics, laser diodes, radio frequency devices and advanced LEDs with higher performance and production yields while ensuring low cost of ownership.
Source: Photonics
LINK