Description
A Webbinat
by IndustryARC
Nearly the last 5 decades have witnessed Atomic Layer Deposition successfully applied in the growth of thin films of many classes of materials, including metal oxides, metals, polymers, and inorganic-organic hybrid materials. ALD has paved its way across a large section of industries be it medical or biological or semiconductor or for laboratory purposes. While the development of biosensors, drug delivery devices and implants lead the lifesciences domain; manufacturing of electronic circuit components is one of the top most uses of ALD in the electronics segment.
Date and Time
Thu, March 23, 2017
7:30 PM – 8:30 PM SST
Registration:
LINK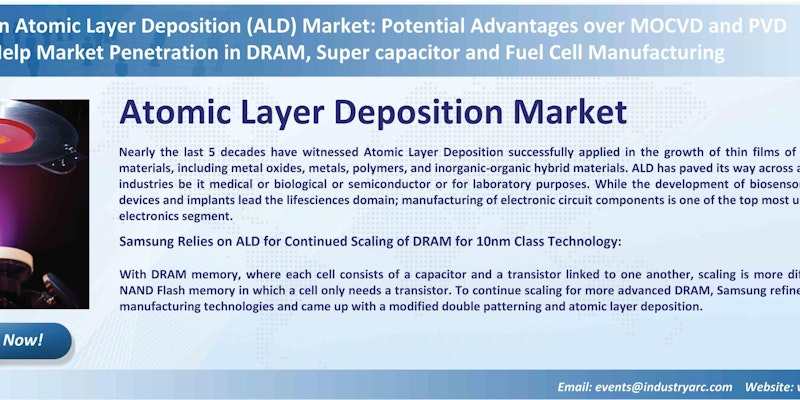 Samsung Relies on ALD for Continued Scaling of DRAM for 10nm Class Technology:
With DRAM memory, where each cell consists of a capacitor and a transistor linked to one another, scaling is more difficult than with NAND Flash memory in which a cell only needs a transistor. To continue scaling for more advanced DRAM, Samsung refined its design and manufacturing technologies and came up with a modified double patterning and atomic layer deposition.


The Fuel Cell and ALD Overhaul:
ALD has clearly gained prominence in manufacture of fuel cell. IndustryARC predicts high potential in this field in the coming years. Solid Oxide Fuel Cells are noted a quality contribution to the global ALD market:

Durable and high-performance low temperature solid oxide fuel cells
ALD of ultrathin blocking layer for low-temperature solid oxide fuel cell on nanoporous substrate


Supercapacitors Manufacturing: ALD to the Rescue?
With the invent of ALD, energy conversion, producing cost competitive, durable and high performance devices have become increasingly significant and one such application is manufacture of a supercapacitor! Manufacturers, developers and suppliers of supercapacitors have lately gained utmost ascendancy. ALD encapsulated activated carbon electrodes for high voltage stable supercapacitors- continue to trend in the market.