ALD is listed as one of the thin film technologies to mass produce Biopolymer thin films in a recent report "Biopolymer Films Market to exceed $6bn by 2024" by
Global Market Insights Inc.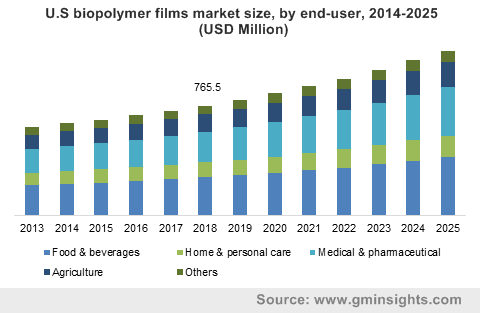 The US Biopolymer market segmented by Golobal Market Inc. (Source: https://www.gminsights.com/industry-analysis/biopolymer-films-market)
According to the press release Global biopolymer films market size is majorly driven by robust growth in the food & beverage industry. For instance, the global food & beverage industry is likely to observe growth close to 8% CAGR over the estimated timeframe. The industry is also positively influence by drifting consumer focus for food packaging films derived from bio-based sources such as polysaccharides (starch, cellulose) and proteins (soy, whey & gelatin). Furthermore, introduction of edible biopolymer films for the food industry will complement the overall industry share over the estimated timeframe.
"Bio-based Biopolymer Films Market is forecast to witness prominent gains of over 6% CAGR between 2016 and 2024. Abundant availability of raw materials such as cellulose, starch, pectin, chitosan, and protein will boost the global market share over the estimated timeframe."
The product offers valued added advantages such as ecofriendly characteristics, biocompatibility and easy raw material availability. However, relatively high product cost in comparison with prevailing counterparts such as semi-synthetic and synthetic films may hamper the overall industry growth in the near future. For example, biopolymer films market price trend ranges from USD 3/kg to USD 3.5/kg. Whereas, semi-synthetic and synthetic films range from USD 1.2/kg to 2/kg.
The report includes key industry insights spread across 160 pages with 165 market data tables & 11 figures & charts from this 2017 report Biopolymer Films Market in detail along with the table of contents at:
https://www.gminsights.com/industry-analysis/biopolymer-films-market